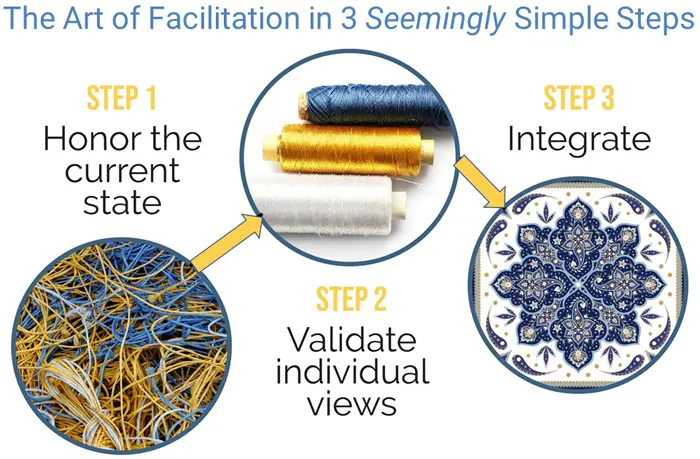 What is Facilitation?
Successful facilitation goes far beyond the actions of taking notes, listing ground rules, executing someone else's agenda, repeating participant's statements, or following by rote the steps and tools of a given process. In other words, it is not simple meeting management. Successful facilitation requires the ability to:
diagnose the governing group dynamics at play to shift patterns that limit issue resolution
Ask the Better Questions® that challenge underlying assumptions and mitigate both individual and group biases, and
be "fluent" in different processes and tools so that the problem governs the thinking, not a prescribed process.
What Are Facilitation Skills?
To us, facilitation is bringing our confidence, wealth of experiences, expertise in behavioral psychology, process knowledge, and multiple creative thinking, statistical problem-solving, and decision tools to ensure you achieve your meeting outcomes.
We have facilitated hundreds of multi-faceted problem-solving and decision-making teams, moving them from desolate to fruitful outcomes.
While we have strong expertise in the processes of Six Sigma, Creative Problem-Solving, Decision Analysis, and Design Thinking, we are are not tied to any given set of tools or steps. Instead, we draw on this diverse background and variety of tools when the presenting issue calls for it.
We Ask the Better Question® when working with organizational teams to unravel the interpersonal tangles that are impediments to achieving desired results.
We facilitate what is happening, not what we think ought to be happening.
What to Expect.
Like any other successful endeavor, notable meeting outcomes begin with a good design. And a good design begins with a clear and succinct definition of the problem to be solved or the question to be answered and the associated objectives. Therefore, you can expect at a minimum a 1:1 ration of planning to meeting time. It is not uncommon for more complex meetings for this ratio to increase to 3:1. Planning is EVERYTHING, so please note that we do NOT facilitate meetings where we have not played a leading role in the design.
A high-level view of the design steps and our level of involvement is as follows:
Once the engagement has been approved and agreed to by all necessary parties, meet to discuss desired outcomes and begin fashioning (or refining) the problem statement or questions to be answered.
If needed, identify and interview key meeting stakeholders to ensure alignment with and understanding of their criteria for success.
If needed, adjust the problem statement/question to be answered and review with meeting sponsors.
Design meeting flow and identify necessary participants, along with pre-work (if needed).
Finalize meeting agenda and send to participants. If necessary, assist in the opening remarks for leadership or key sponsor.
Facilitate meeting.
Meet post-meeting to review outcomes and summarize discussions.