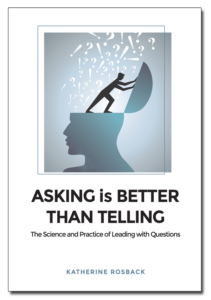 Why is Asking Better than Telling?
By studying strong leaders, effective problem-solvers, and those who navigate complex implementation efforts, we learn there's more to the equation than the words they say. In fact, the answers they give aren't what sets them apart. Rather, it's the art of asking questions—the better question—that sets them apart.
It's in asking the questions that productively a) challenge underlying assumptions that block innovation, b) reshape cyclical discussions that stall decision-making, and c) reveal the underlying drivers that can be at the root of persistent conflicts that makes the difference.
Who can benefit from this book?
Leaders
Project Managers
Facilitators
Change Agents
Supervisors
Executive Coaches
Innovations
Consultants
Asking is Better Than Telling provides a neurological look into why questions work the way that do, powerful questioning structures that can elicit a change in thinking, and a question sequence framework to guide your questioning process. Based on the author's two decades of facilitating complex organizational initiatives and her graduate work and research in the neuroscience of decision-making and social dynamics, the book is full of specific case studies demonstrating the effective use of better questions. The question reference guide at the end contains over 100 questions for each phase of the questioning framework, a feature that readers have found invaluable when planning their engagements.
Asking is Better Than Telling is an engaging and highly applicable book that should be required reading for anyone tasked with implementing operational transformations, facilitating decision-making processes, engaging with stakeholders, and leading organizations.
Available in Paperback and Kindle