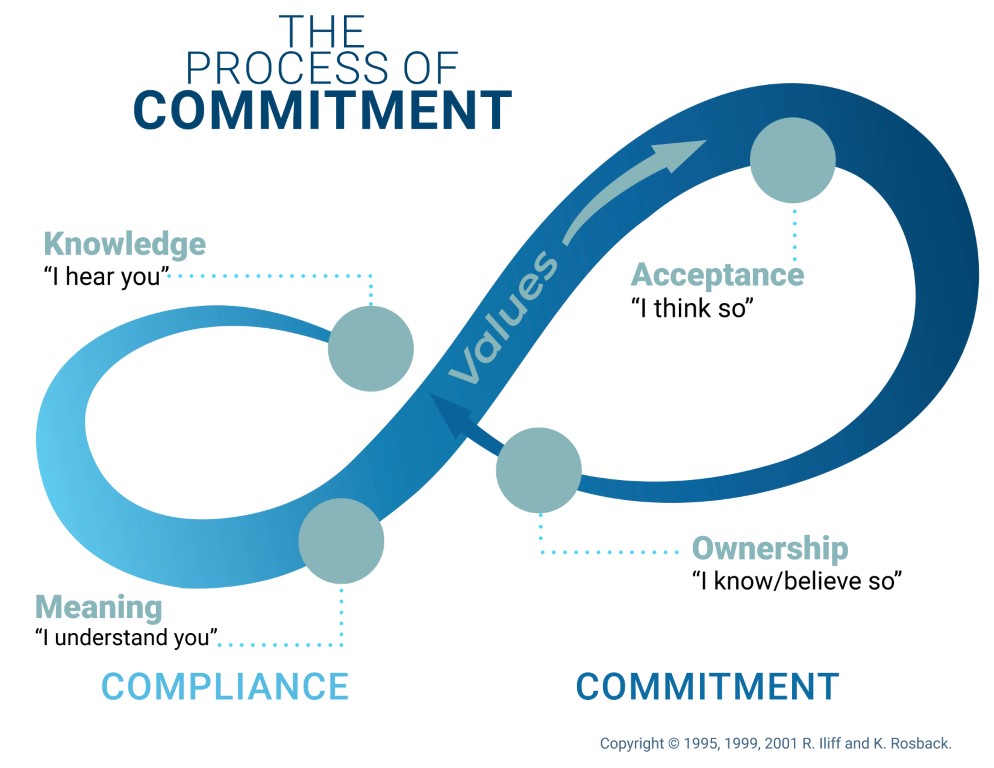 People make meaning of information based on past experiences and prior knowledge. So when they receive information (KNOWLEDGE) and hear an announcement about a new process or program—no matter how wonderful or how full of future rewards the initiators envision the program to be—they may see no difference between that program and one that resulted in layoffs three years ago (MEANING).
Those receiving the information may ask, Does it open new horizons, present threats, make no connection at all, or settle in comfortably and compatibly with the current shape and flow? That is what those implementing an initiative need to determine by moving from advocacy—dissemination of information—to inquiry. What meaning are they making from the information? Why does it make perfect sense that they see it the way they do?
Failing to understand this and resorting to mandates results in compliance at best, a state that is readily discarded when the enforcer goes away. And telling them again is unlikely to shift how the incoming information is received—that is only accomplished through a more complex neurolinguistic process called reframing.
Gaining commitment is all about alignment with a person's values (ACCEPTANCE). To what extent does the idea, the product, or the initiative fit with people's core objectives? To what extent does it solve a key problem for them?
This is one of the most difficult phases of the process. It's easy if your targeted client or user already knows and embraces the problem your initiative or product solves. But what if they see no value in it? What if your proposal holds no significance for them?
This situation leaves you with two options: (1) you must endeavor to make this something that should be of value to them (before you readily accept this as a path forward, note how hard the healthcare industry works to reshape our unhealthy habits), or (2) you must work to understand what is of value to them and shape your initiative, call to action, or product marketing to align and engage with that set of values.
This is best achieved by going for the small win—nudging someone to just try something. That results in people gaining a new experience (and perhaps a hit of dopamine) and an updated set of knowledge, thus moving them into a state of OWNERSHIP. That subsequently alters the mental landscape, thus changing how they receive and make meaning from new incoming information.